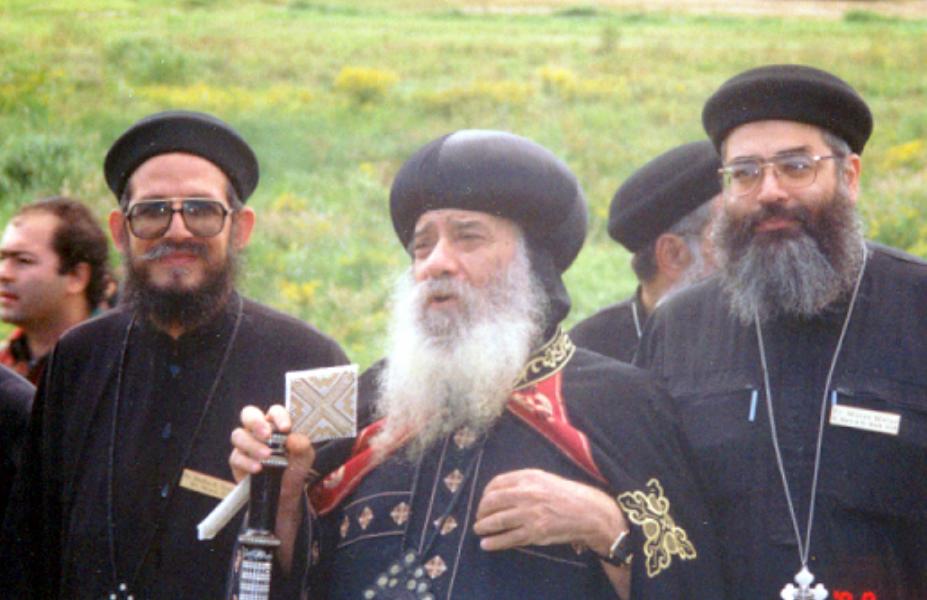 It is with a heavy heart, my beloved, that we bid farewell to our beloved Shepherd and father, thrice in mercy: His Holiness Pope Shenouda the 3rd. The 117th pope of Alexandria, the successor of St. Mark the Evangelist, the head of the priests, the shepherd of shepherds, the 13th disciple, the beloved of our Lord Jesus Christ, the teacher of generations, the protector of the doctrine of our Christian faith, and the Creed of the Coptic Orthodox. He is the one who remained Bishop of education and the religious and clerical institutions.
He instituted many clerical councils within Egypt, as well as in the lands of immigration. He also revived many monasteries outside of Egypt including: California, Germany, Australia, and others. In Egypt, he renovated and revived numerous monasteries including: St. Bishoy's Monastery, the Baramous Monastery, and Upper Egypt Monasteries.
He left his memorable imprints in instituting many diocese and churches in the lands of immigration, including: the United States, Canada, Australia, Europe, Africa, Middle East, etc.
He made his utmost efforts to personally consecrate Churches, accompanied by a number of Bishops and Metropolitans.
He prepared the Holy Myron oil many times in his life time.
He taught us how to love the Holy Bible, and how to meditate upon its secret treasures and upon its deep meanings. Because of this, the many teachings, preaching, and sermons flourished throughout all the churches under his supervision.
He ordained Patriarchs for Eretria (Father Philopos the 1st, and Father Antonios the 1st)
He was awarded around 10 honorary doctorates from various universities throughout the world.
He was also awarded many peace prizes.
He lectured at many universities worldwide and in many seminars both in and out of Egypt preaching similar to St. Paul the apostle.
He ordained about 117 bishops and numerous priests.
He consecrated our old church building in September 1992.
He blessed our new Church project more than once, and followed up with me step by step on our progress whenever I met with him. He also posted our Church's news and progress in El-Keraza magazine. He always inspired me to have courage and to move forward with the new Church project despite the concerns related to the small size of our congregation, and several other obstacles in our way.
He created an annual 3-days seminar for all the priests of North America, which started as twice a year then became once a year. His holiness felt very strongly about committing himself fully to this annual seminar.
He taught us to be brave and fearless and to constantly be in declaration of the truth, and that we must obey God more than people. An example of this is seen as he stood firm by and protected our Christian beliefs regarding divorce being only allowed under the condition of adultery; as well as the law of "one wife".
His great love for children and his respect for all are widely observed. There wasn't a single time when I greeted him, and he would not thank me and return the greeting.
Memories:
When he came to attend the opening and instituting of the Clerical council in Tanta and also the 100th anniversary for the church of St. Mary in Tanta, I was a deacon in attendance of this event. I recall his holiness saying: "Next time, I want all the deacons to know their hymns off by heart without having to read them from the book of hymns." This emphasizes how strongly he felt and cared about us having to learn our hymns without depending on books to read from.
When I was asked in 1993 to serve at St. Mina's Church in Hamilton, I had a meeting with His Holiness prior to my departure. His holiness presented me with a wooden hand cross after praying on it and anointing it with holy oil.
On the 10th anniversary of the consecration of our old Church building, and during my meeting with him in Boston, His Holiness recorded a video for us of his heart felt joy regarding this occasion.
The numerous times that I met with him during my visits to Egypt, where I was inspired by the fact that even in his old ailing age, his is still committed to serving, and sacrificing for the good of his flock. When I returned to Canada, I wrote an article titled "I learned from my Beloved Father", and it was posted in El-Keraza magazine. The article is posted on our Church's website.
His warm hosting for my family and I at St. Bishoy's Monastery every time we visited and his love and care toward my children.
I met with His Holiness more than once and asked him to bless us by consecrating our new Church, and his response was, "Pray for me so that God may grant me strength and good health, that I may come."
At the 1996 celebration His Holiness' silver jubilee in Canada, he made lovely remarks regarding the choral song that our church presented to him, and which the remainder of the congregation was also applauding it.
I have shed many fervent tears in Canada and in Egypt on the departure of His Holiness, as we lost him in the flesh. However, our hope is through the resurrection, and God's love and compassion that we would meet in the heavenly Jerusalem. I ask you all and include myself to pray to God to rest his soul in peace; according to the will which is mentioned in the funerals of all patriarchs. We also entreat God to bestow another good shepherd upon us, a shepherd who will lead his flock in chastity and justice.
Please pray that our Lord Jesus Christ, Son of God, rest the soul of our father the Patriarch Pope Shenouda the 3rd, bestow another good shepherd upon us, a shepherd who will lead his flock in chastity and justice, and preserve the lives of our fathers the Metropolitans, Bishops, the priests, the monks, and our brothers the deacons, and sustain them in their service.
Glory be to God forever, Amen.