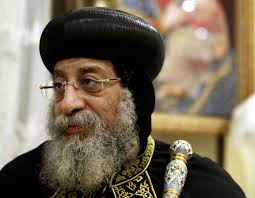 You are cordially invited to attend the consecration prayers of the new St. Mina's Coptic Orthodox Church in Hamilton by the hands of His Holiness Pope Tawadros II on the morning of Friday, September 12, 2014. This is the first North American trip for His Holiness Pope Tawadros II. The last time a Coptic Pope visited Hamilton was on September 26, 1992 when the late Pope Shenouda III consecrated our old Church on Melvin Avenue in Hamilton.
This is a joyful day for the Coptic Orthodox community in the Greater Hamilton Area, and we would like to invite you to join us for this event. Because of the expected high number of attendees, we would request that you kindly R.S.V.P. by filling up the form below (for each family member who will be attending the event) by July 31, 2014. Please include a phone number that you can be reached at when the printed tickets are ready for pickup. You do not need to fill this form if you filled the printed paper form in the church.
We look forward to having you participate in this significant event.