"Blessed be the God and Father of our Lord Jesus Christ, the Father of mercies and God of all comfort, who comforts us in all our tribulation, that we may be able to comfort those who are in any trouble, with the comfort with which we ourselves are comforted by God." (2 Corinthians 1:3-4)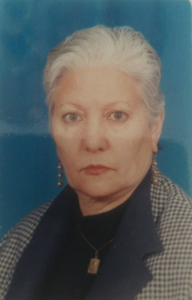 The Church offers her deepest condolences to the family of Mrs. Alice Girgis Abeid who rested in peace in the Lord on Thursday, March 24th, 2016. Mrs. Alice is the widow of Mr. Zakaria Dakran, the mother of Mr. Samir Dakran (husband of Mrs. Hala Dakran), Mr. Emad Dakran (husband of Mrs. Aida Henes), Mrs. Mary Elabd (wife of the late Mr. Maurice Elabd), Mrs. Thereza Dakran (wife of Mr. Yacoub Hanna), Mrs. Samia Dakran (wife of the late Mr. Mamdouh Maher), the Aunt of Mr. Akram Samuel (Husband of Mrs. Russia Samuel), grandmother of Mrs. Magdoline Filice (wife of Mr. Carmen Filice), Mike and Mina Elabd, Nashat, Ereen, Nirmeen, and Hanna Yacoub, John-Paul Kyrillos, Angela, Sarah, Alison, and Megan Dakran, Mikhail, Kyrillos and Mira Mamdouh, Makarious and Jessica Samuel, and great grandmother of Jasminica and Speranza Filice, Jessica, George and Joseph Sedra.
The Church Funeral Service will be held on Tuesday, March 29th, 2016 at 1:00pm at Saint Mina's Coptic Orthodox Church at 1562 Rymal Road East, Hamilton, ON L8W 3P1. Visitation with the family will be held on Tuesday, March 29th, 2016 between 7:30pm and 9:30pm at the Church.
May God rest her soul in peace and give comfort to all the family members in Canada and Egypt.
مُبَارَكٌ ٱللهُ أَبُو رَبِّنَا يَسُوعَ ٱلْمَسِيحِ، أَبُو ٱلرَّأْفَةِ وَإِلَهُ كُلِّ تَعْزِيَةٍ، ٱلَّذِي يُعَزِّينَا فِي كُلِّ ضِيقَتِنَا،
حَتَّى نَسْتَطِيعَ أَنْ نُعَزِّيَ ٱلَّذِينَ هُمْ فِي كُلِّ ضِيقَةٍ بِٱلتَّعْزِيَةِ ٱلَّتِي نَتَعَزَّى نَحْنُ بِهَا مِنَ ٱللهِ. (٢ كورنثوس ١: ٣-٤)
رقدت في الرب على رجاء القيامة مدام أليس جرجس عبيد. مدام أليس زوجة المتنيح الأستاذ زكريا دكران ووالدة كل من الأستاذ سمير دكران (زوج مدام هالة دكران) والأستاذ عماد دكران (زوج مدام عايدة حنس) ومدام مارى العبد (زوجة المتنيح الأستاذ موريس العبد) ومدام تريزا دكران (زوجة الأستاذ يعقوب حنا). وخالة الأستاذ أكرم صموئيل (زوج مدام رشا صموئيل). وجده كل من مجدولين فليس (زوجة كارمن فليس)، مايك ومينا العبد، نشأت وايرين ونرمين وحنا يعقوب، جون-بول كيرلس وانجيلا وساره وأليسون وميجان دكران، ميخائل وكيرلس وميرا ممدوح، مكاريوس وجيسيكا صموئيل. ولها احفاد ابنائها: جاسمينيكا وسبرنزا فليس، جيسيكا وجورج وجوزيف سدرا.
وسوف تقام صلاة الجناز يوم الثلاثاء الموافق ٢٩ مارس ٢٠١٦ فى تمام الساعة الواحدة ظهرا فى كنيسة الشهيد العظيم مارمينا بهاميلتون. و سوف تستقبل الأسرة العزاء يوم الثلاثاء الموافق ٢٩ مارس ٢٠١٦ من الساعة ٧.٣٠ إلى ٩.٣٠ مساءا فى كنيسة الشهيد العظيم مارمينا بهاميلتون.
الرب يعطي نياحا لنفس المنتقلة و عزاءا لكل أفراد الأسرة في مصر و كندا.