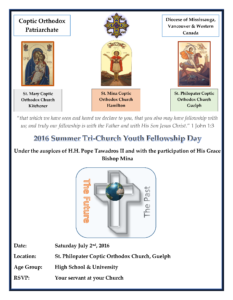 Under the auspices of His Holiness Pope Tawadros II and with the participation of His Grace Bishop Mina, a spiritual/fun day will be held for the combined youth of three Churches: St. Mary Kitchener, St. Mina Hamilton and St. Philopater Guelph.
"That which we have seen and heard we declare to you, that you also may have fellowship with us; and truly our fellowship is with the Father and with His Son Jesus Christ." (1 John 1:3)
What: 2016 Summer Tri-Church Youth Fellowship Day
When: Saturday, July 2, 2016
Where: St. Philopater Coptic Orthodox Church, Guelph
40 Wilbert Street, Guelph, ON N1K 0A3
Age Group: High School (finished Grade 9 and up) and University/College Students
What is happening: The day will include a Holy Liturgy, workshops, and sports activities/competitions (soccer, Volleyball, Ping Pong, Badminton, etc.). His Grace Bishop Mina will attend the day. All activities (spiritual and sports) will observe a principal of mixed participation (i.e. a soccer team will be a mix of youth from the three Churches as opposed to Church teams competing against each other)
Agenda:
09:00 – 11:00am: Holy Liturgy
11:00 – 11:45am: Breakfast
11:45 – 12:30pm: Ice Breaker Activities
12:30 – 01:00pm: One Church, the Body of Christ – H.G. Bishop Mina
01:00 – 01:15pm: Break
01:15 – 02:15pm: Break out Groups – hosted by our Fathers the Priests

University/College Group – led by Brett Slote
High School Group – led by Sherif Mikhail

02:15 – 06:00pm: Sports Activities
06:00 – 06:30pm: Awards and Closing
How can I help: We will need the following volunteers to work with their counterparts from the other two Churches in planning the various components of the day:
Youth deacons who would serve in the liturgy
Two youth to organize the fun activities
One youth to work on the closing event
Registration: Local servants or send email to services@stminahamilton.ca
Deadline: Sunday, June 5, 2016
Flyer: click here
** Please remember to bring your health card and sports cloth.
** The bus will leave St. Mina's Church at 7:45am.