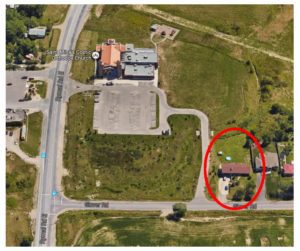 Peace and Grace,
By the grace of God, St. Mina's Coptic Orthodox Church in Hamilton, ON successfully purchased the house adjacent to the church on Glover Road (adjacent to the church main entrance). The house was listed for $499,000, and the church went into competition against another offer. After negotiation and with the intercession of St. Mina, the church got it for $470,000 on Thursday, November 24, 2016 (Feast of Martyrdom of Saint Mina the Wonder-Worker). The house will definitely benefit the church due to its proximity to the church land as well as it being an additional entrance to the unused portion of our property. Abouna Metias and the Church Board would like to congratulate the congregation and thank each and every member for their continuous support.
The church will need to pay more than $100,000 (20% of the house price + legal fees + closing expenses and adjustment + taxes) before the closing date next Wednesday, December 7, 2016 (fast closing did put us ahead of the other offer). The church believes that this is possible with your generous donations and support, which can be in one of the following forms:
May God bless you and reward you on earth and in heaven.
"So let each one give as he purposes in his heart, not grudgingly or of necessity; for God loves a cheerful giver." (2 Corinthians 9:7)
God Bless,
The Church
Update (December 7, 2016): Due to a delay from the Bank to process the mortgage request, the church requested to postpone the closing date until Wednesday, December 14, 2016.
---
خبر سار!
أحبائي في الرب،
سلام الله الذي يفوق كل عقل يحفظ قلوبكم و أفكاركم في المسيح يسوع.
أحب أن أفرح قلوبكم بأن الكنيسة قد تقدمت بعرض لشراء المنزل المجاور لها و الذي تم عرضه للبيع بمبلغ ٥٠٠,٠٠٠ دولار. وهو موقع حيوي بالنسبة للكنيسة حيث انه بالمدخل الرئيسي لها 31 Glover road ورغم وجود عرض أخر لشراء المنزل من طرف أخر ، نشكر الله بشفاعة الشهيد العظيم مارمينا العجايبي شفيع الكنيسة تم قبول عرض الكنيسة بشراء المنزل بمبلغ ٤٧٠,٠٠٠ دولار في يوم عيد استشهاد الشهيد مارمينا العجايبي يوم الخميس ٢٤ نوفمبر ٢٠١٦ و تم تحديد يوم الأربعاء ٧ ديسمبر ٢٠١٦ لغلق إجراءات إتمام الشراء كأحد شروط قبول عرض الكنيسة لشراء المنزل ونظراً لهذا مطلوب علي وجه السرعة مبلغ اكثر من ١٠٠,٠٠٠ مائة آلاف دولار كمقدم شراء المنزل بالإضافة إلي رسوم إغلاق إجراءات البيع و الضرائب .
و أنا أثق في محبتكم للكنيسة و للشهيد مارمينا العجايبي أنكم تتجاوبون معنا حسب كرم سخاءكم … "المعطي فبسخاء" (رومية٨:١٢)
و الرب الذي يكافئ كل إنسان يقدم كأس ماء بارد ، يبارككم و يعوضكم بالسمائيات عِوَض الأرضيات و الأبديات عِوَض الزمنيات.
يتم قبول التبرعات بأي من الطرق التالية:
+ تبرعات نقدية
+ شيكات
+ قروض بدون فوائد
+ تبرعات الكترونية بكروت الإئتمان بكافة أنواعها www.stminahamilton.ca/donate
+ تبرعات الكترونية منتظمة شهرياً أو سنوياً. www.stminahamilton.ca/donate
والرب معكم،
أبونا متياس سعيد