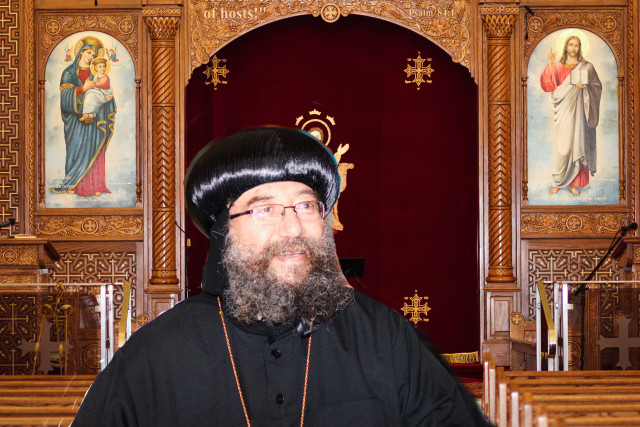 In the name of the Father and the Son and the Holy Spirit one God amen.
My beloved sons and daughters, I would like to wish you a Merry Christmas and happy new year, and I would like to take this opportunity to contemplate with you on the birth of our Lord Jesus Christ.
Let us open our bibles on Luke 2:6-8 "So it was, that while they were there, the days were completed for her to be delivered. And she brought forth her firstborn Son, and wrapped Him in swaddling cloths, and laid Him in a manger, because there was no room for them in the inn."
There was no room for them in the inn. Joseph and Mary headed down to their home-town of Bethlehem to register for the new tax, they started to look for a place where St Mary could deliver her baby, all the doors were closed in their face. There was no place available for the birth of Jesus.
No room except for a shameful, dirty, smelly barn full of animals, that's where the Son of God was born that Christmas day some 2,000 years ago! Sad to say, today things haven't changed very much, there is no room for the Lord in our life.
I wonder what Jesus want from each one of us this Christmas!!
Making a room for him, letting him into your life and your heart. I will talk about 6 rooms, but meditate about 3 only… To make room for:
His Word "The Bible".
His Will.
His Worship.
His Work.
His Ways.
His Wealth.
1. Make Room for His Word
"I know you are Abraham's descendants, but you are trying to kill Me because My word has no place within you." (John 8:37)
People say that they "love God" and it is true that they may go to church, pray, and attend spiritual meetings, but what about his book? How much time do we really have for his book? Is the Bible crucial in our lives? How important is it for us to dedicate prime time out of our busy hectic schedule for reading the Bible?
I am sorry to say people spend so much time and effort attempting to fill up their lives with many activities; because they feel that their lives are so very empty! They do not know that only Christ can fill that emptiness; and He only does it through the work of His word!
Let us make time and give priority to well position the Bible in our busy life!
2. Make Room for His Will, His Wants
Let your will be done, most people are so SELF motivated, some are OTHERS motivated, but very few seem to be GOD motivated, It is written in:
John 10:27 "My sheep hear My voice, and I know them, and they follow Me."
Also in Proverbs 3:5-6 "Trust in the Lord with all your heart, and lean not on your own understanding; in all your ways acknowledge Him, and He shall direct your paths."
3. Make Room for His Wealth
Our eyes are fixed on the things of this life -material possessions, so loose sight of eternity, and all the wealth that God has in his store for us, it written in:
1 Corinthians 2:9 "But, as it is written, what no eye has seen, nor ear heard, nor the heart of man imagined, what God has prepared for those who love him"
Matthew 6:19-20 "Lay not up for yourselves treasures upon earth, where moth and rust doth corrupt, and where thieves break through and steal: But lay up for yourselves treasures in heaven, where neither moth nor rust doth corrupt, and where thieves do not break through nor steal."
There are lots of heavenly treasures God prepared for us, I will only mention only three:
Crowns

1 Peter 5:4 "And when the chief Shepherd shall appear, ye shall receive a crown of glory that fadeth not away."
2 Timothy 4:7-8 "I have fought a good fight, I have finished my course, I have kept the faith: Henceforth there is laid up for me a crown of righteousness, which the Lord, the righteous judge, shall give me at that day: and not to me only, but unto all them also that love his appearing."

Rewards

Romans 8:17-18 "And if children, then heirs; heirs of God, and joint-heirs with Christ; if so be that we suffer with him, that we may be also glorified together. For I reckon that the sufferings of this present time are not worthy to be compared with the glory which shall be revealed in us."

Eternal Life Itself

Romans 6:23 " For the wages of sin is death, but the gift of God is eternal life in Christ Jesus our Lord."
Let us all give room for His word,His will, His treasures In our life. May God grant us peace and safety and keep for us our honored and righteous father the thrice blessed our honored Pope Tawadros II, May God of heaven confirm him on his throne for many years and peaceful times
I wish you all a very Merry Christmas and a Happy New Year.
Glory to the Holy Trinity, forever, AMEN!
— His Grace Bishop Mina
Bishop, Coptic Orthodox Diocese of Mississauga, Vancouver, and Western Canada