"Blessed be the God and Father of our Lord Jesus Christ, the Father of mercies and God of all comfort, who comforts us in all our tribulation, that we may be able to comfort those who are in any trouble, with the comfort with which we ourselves are comforted by God." (2 Corinthians 1:3-4)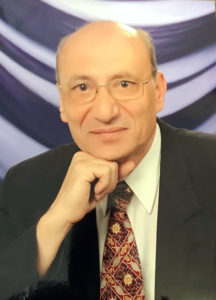 The Church offers her deepest condolences to the family of Mr. Fikri Fawzi Michail who rested in peace in the Lord on Friday, May 5th, 2017. Mr. Fikri is the husband of Mrs. Angel El-Komos Fouad Philopos, the father of Dr. Phoebe, Dr. Liliane and Dr. Caroline, and the grandfather of Angelo, Jessica, Andy, Joshua, Krista, Martina and Hannah. Mr. Fikri is also the brother of Mr. Fayez, Dr. Raouf, late Eng. Fadel, late Mrs. Isis and Mrs. Tahany.
The Church Funeral Service will be held on Tuesday, May 9th, 2017 at 12:00pm (noon) at Saint Mina's Coptic Orthodox Church at 1562 Rymal Road East, Hamilton, ON L8W 3P1. The family will accept condolences from the congregation on Tuesday, May 9th, 2017 between 7:00pm and 9:00pm at the Church.
May God rest his soul in peace and give comfort to all the family members in Canada and Egypt.
مُبَارَكٌ ٱللهُ أَبُو رَبِّنَا يَسُوعَ ٱلْمَسِيحِ، أَبُو ٱلرَّأْفَةِ وَإِلَهُ كُلِّ تَعْزِيَةٍ، ٱلَّذِي يُعَزِّينَا فِي كُلِّ ضِيقَتِنَا،
حَتَّى نَسْتَطِيعَ أَنْ نُعَزِّيَ ٱلَّذِينَ هُمْ فِي كُلِّ ضِيقَةٍ بِٱلتَّعْزِيَةِ ٱلَّتِي نَتَعَزَّى نَحْنُ بِهَا مِنَ ٱللهِ. (٢ كورنثوس ١: ٣-٤)
رقد فى الرب على رجاء القيامة الاستاذ فكرى فوزى ميخائيل. الاستاذ فكرى زوج مدام أنچيل القمص فؤاد فيلبس و والد كل من الدكتوره فيبى و الدكتوره ليليان و الدكتوره كارولين و جد كل من أنچلو و چيسيكا و اندى و چوشوا و كريستا و مارتينا و هانا. الاستاذ فكرى اخو كل من الاستاذ فايز و الدكتور رؤوف و المرحوم المهندس فاضل و المرحومه مدام ايزيس و مدام تهانى.
و سوف تقام صلاة الجناز يوم الثلاثاء الموافق ٩ مايو ٢٠١٧ فى تمام الساعة الثانية عشر ظهرا فى كنيسة الشهيد العظيم مارمينا بهاميلتون. و سوف تستقبل الأسرة العزاء يوم الثلاثاء الموافق ٩ مايو ٢٠١٧ من الساعة ٧,٠٠ إلى ٩,٠٠ مساءا فى كنيسة الشهيد العظيم مارمينا بهاميلتون.
الرب يعطى نياحا لنفس المنتقل و عزاءا لكل أفراد الأسرة فى مصر و كندا.