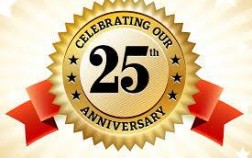 By the grace of God, Saint Mina's Coptic Orthodox Church is celebrating 25 years of service in Hamilton, Ontario since 1992.
Under the auspices of His Grace Bishop Mina, a special event to celebrate the Silver Jubilee of the Church will be held as follows:
Date/Time: Sunday, September 17, 2017 (from 5pm to 9pm)
Location: Michaelangelo Conference Centre (1555 Upper Ottawa Street, Hamilton, Ontario L8W 3E2)
Tickets for the event are now available in the church bookstore. Please contact Mr. Mohab Louka at (905) 921-6674 or mohablouka@gmail.com for hours and details.
Tickets are also available online (see below). For those online reservations, tickets will be available at the door of the event at 5pm. Please arrive early and bring proof of payment with you.
Please note that the ticket prices indicated below are only suggested minimum values. You are encouraged to donate more to support this event and future church activities through this link: http://www.stminahamilton.ca/donate
---
Online Tickets:
Click here to add a full ticket (11 years old and older) – please specify quantity below
Click here to add a half ticket (3 to 11 years old only) – please specify quantity below