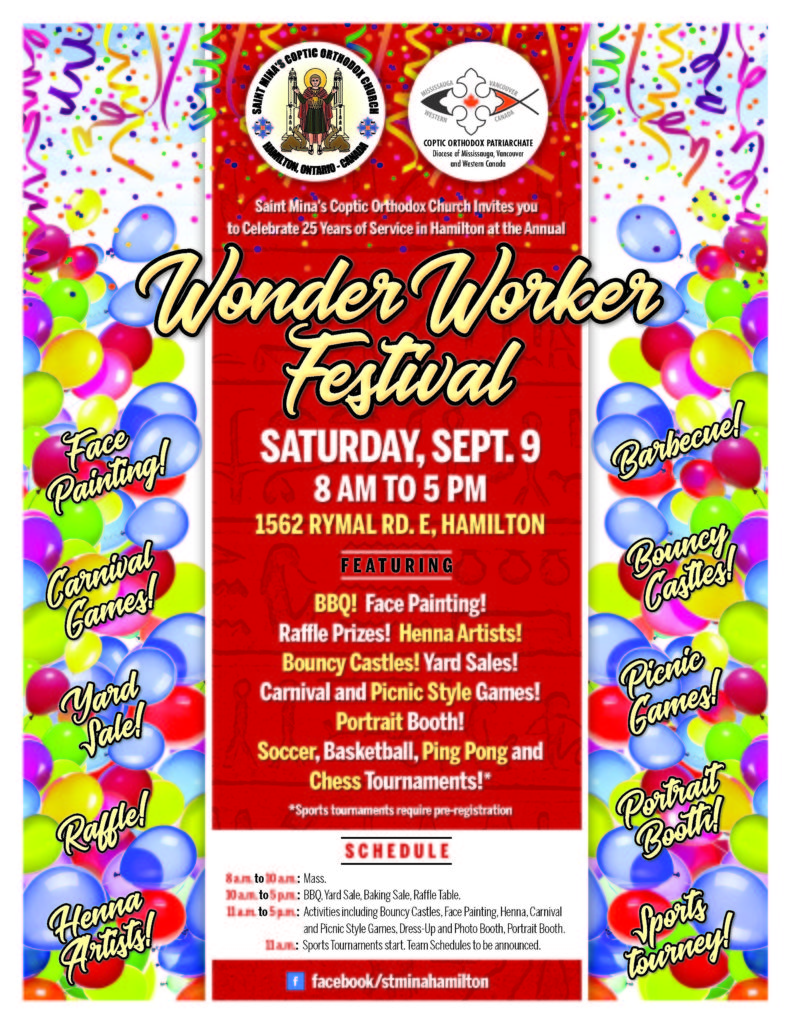 Under the auspices of His Grace Bishop Mina (Bishop of the Coptic Orthodox Diocese of Mississauga, Vancouver and Western Canada), Saint Mina's Coptic Orthodox Church in Hamilton would like to invite you to its annual festival: Wonder Worker Festival (WWF). This year is a special festival celebrating 25 years of service in Hamilton (Silver Jubilee of the Church)!
Date: Saturday, September 9, 2017
Location: 1562 Rymal Road East, Hamilton, Ontario, Canada – L8W 3P1
The Program includes:
Holy Liturgy from 8am to 10am
BBQ, yard sale, baking sale, raffle table.
Bouncy castles, face painting ,henna.
Carnival and picnic style games, dress up and photo booth, portrait booth.
Sports Tournaments: Soccer, Chess, Table Tennis, and Basketball
The sports tournaments require pre-registration as follow:
Soccer: please register with Ashraf Hanna at +1.416.434.1225, water bottles will be provided, $20 per player.
Chess: please register with Akram Hanna at +1.647.938.0770, $10 per player.
Table Tennis: please register with Mohab Louka at +1.905.921.6674, $10 per player (single) or $15 for double and single games.
Basketball: please register with Arsani Ghbrial at +1.289.700.8928 or Bishoy Sefin at +1.807.252.8455, $5 per player.
To volunteer or to share ideas, please contact: Nervana Meleka at +1.519.755.0929.
Please join us and invite other too.
Click here for detailed directions to the Church.