Saint Mina's Coptic Orthodox Church
Hamilton, Ontario – Canada
Saint Mina Coptic Orthodox Church is a non-profit organization within the Holy Universal Apostolic Coptic Orthodox See of Alexandria under the auspices of His Holiness Pope Tawadros II, may Christ our God establish him on his holy throne. As of March 2013, the church is part of the Coptic Orthodox Diocese of Mississauga, Vancouver and Western Canada under the auspices of His Grace Bishop Mina.
Saint Mina Coptic Orthodox Church is owned by the Coptic Orthodox Patriarchate whose representative is Fr. Metias Said Ibrahim. Through the holy appointment of God, His Holiness Pope Shenouda III in his epistle to the Church of Saint Mina (dated December 1992) gave the apostolic ministry to Fr. Metias for the service of Saint Mina's Church.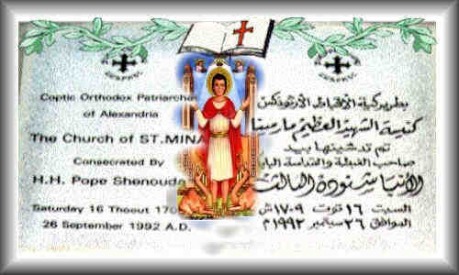 ---
---
Our Patron Saint: Saint Mina
Hail to you O martyr, Hail to the courageous hero,
Hail to the struggle-mantled, the saint Abba Mina.
Hail to you night and day, O brave hero,
your name filled every country, and places on earth.
Hail to the wonder worker, St. Mina the faithful,
hail to the strong hero, the believers' intercessor.
Blessed are you and hail to you, O favored righteous one,
the angels chant to you, "Axios, Axios."