Father Metias Said Ibrahim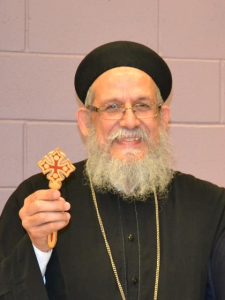 Father Metias Said Ibrahim was born in May of 1954. He was ordained a Clerical reader at age 6. In 1969, he was ordained a Sub-deacon and also became a Sunday School Servant which he kept until his ordination as priest. In 1977, he graduated from university with a bachelor degree in Agriculture. With that degree he worked as an Agricultural Engineer in Egypt's Seedling Inspection Agency. In 1978, he completed his duties in the Egyptian Armed Forces. After finishing his military duties he concentrated his Sunday School service totally to the Youth (High School and University). In 1980, he also graduated from the Clerical University with a Bachelor in Clerical Studies. From the Clerical University, he received the most excellent honour as a modern Coptic mind.
In 1983 the Divine Call arrived to priesthood. His Grace the late Bishop Yoannis (John) of the Gharbia (Western) Diocese, ordained him as Priest of Saint George's Church. He continued to serve the congregation of Saint George's Church diligently for more than 9 years until His Holiness Pope Shenouda III, Pope of Alexandria and Patriarch of the See of Saint Mark the Apostle, appointed him to serve the growing congregation of Canada's Coptic Diaspora in Hamilton. Father Metias arrived to Canada on January 4th, 1993 where he was warmly welcomed by the congregation of the newly consecrated church of Saint Mina. From January of 1993 until the present he continues to diligently serve the flock of Christ in Hamilton and surrounding area. From his early years in Sunday School Service, Father Metias was a great force in the service of youth. This was assigned to him due to his impressive and overwhelmingly charismatic personality which the youth became attached to. Given this background, his charismatic nature came in handy for his service to the youth of Saint Mina's Church.
Hamilton was not a place to attract many Egyptian families, but now under the leadership of Father Metias many people settled down in the area, and the number of families increased from 20 to more than 120 families. Our congregation finds in Fr. Metias not only a spiritual father but also a wise leader able to look after them. This is a very important factor and key to the overwhelming success of the church. Many people come from all over Canada and the United States asking for advice and to consult Fr. Metias in diverse matters.
---
---