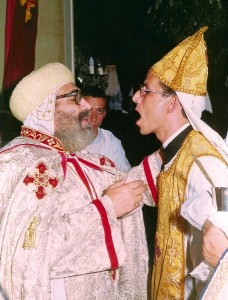 St. Mina's Coptic Orthodox Church of Hamilton, Ontario, Canada congratulates her beloved Fr. Metias Said Ibrahim on his 27th Anniversary of Priesthood.
Fr. Metias was ordained to the Holy Priesthood on November 25th, 1983 by His Grace the late Bishop Yoannis (John) of the Gharbia (Western) Diocese in Egypt. He served in St. George Church for more than nine years until His Holiness Pope Shenouda III appointed him to serve the growing congregation of Canada's Coptic Diaspora in Hamilton, Ontario. Father Metias arrived to Canada on January 4th, 1993 where he was warmly welcomed by the congregation of the newly consecrated church of Saint Mina. You can read more about our beloved Father Metias on this page.
We pray that God may keep him for the church for many years to come and bless his service and his family.
Below are some pictures and an interview with our beloved father recorded two years ago: