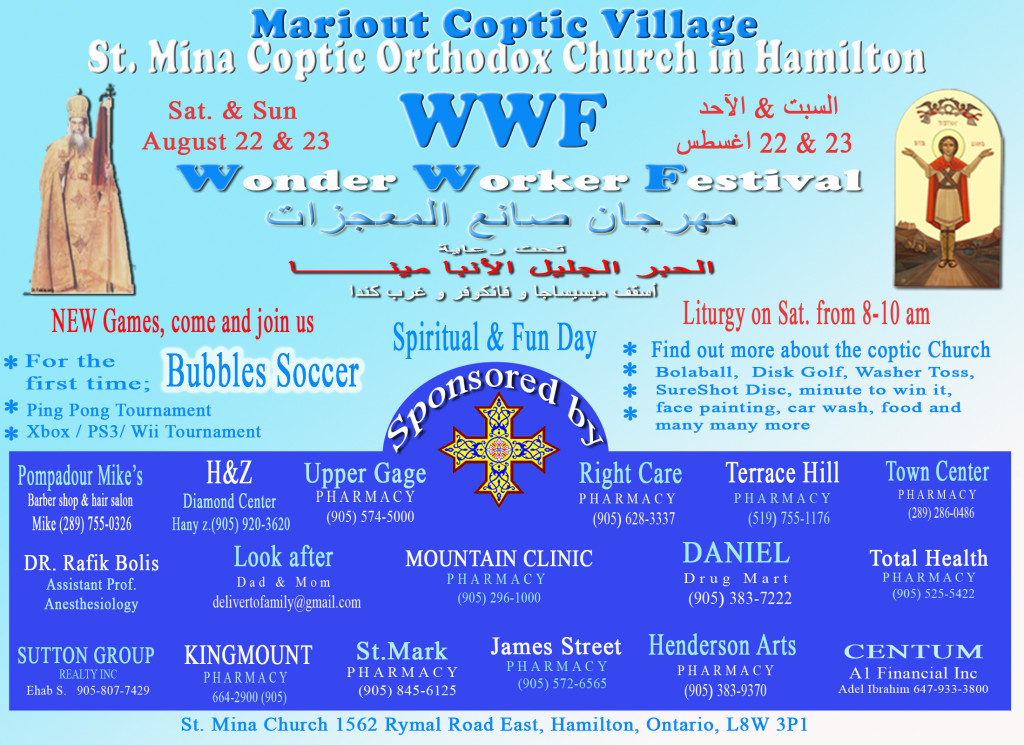 Under the auspices of His Grace Bishop Mina (Bishop of the Coptic Orthodox Diocese of Mississauga, Vancouver and Western Canada), Saint Mina's Coptic Orthodox Church in Hamilton would like to invite you to its annual festival: Wonder Worker Festival (WWF)
Date: Saturday, August 22nd, and Sunday, August 23rd, 2015
Location: 1562 Rymal Road East, Hamilton, Ontario, Canada – L8W 3P1
The Program includes:
Holy Liturgy on Saturday, August 22nd, 2015 8am to 10am.
Find out more about the Coptic Church!
For the first time: Bubbles Soccer
Sports Tournaments: Ping Pong, Xbox, PS3, Wii
New games, come and join us
Bolaball, disk golf, washer toss, sureshot disc, minute to win it, face painting, car wash, food, and much more!
Garage sale 🙂
To volunteer or to share ideas, please contact: Mr. Ehab Sadik at +1.905.807.7429
Click here to donate items for the Garage Sale
The church will be accepting stuff for the garage sale from our congregation for the next two Sundays  (August 9th and August 16th) at Church
Look for the black trailer in the church parking lot
Please do not bring any clothes; they will not be accepted
Please do not bring any items into the church; they are not welcome inside (only at the trailer)
If you cannot make it to church on these two Sundays and you want to donate something, please contact Mr. Ehab Sadik at +1.905.807.7429; he can assist you with setting up an appointment during weekday evenings
Please join us and invite other too.
Click here for detailed directions to the Church.